In June of 2006, we accepted the call to come to Germantown Baptist Church as Worship Pastor. In August 2007 I was called to the Senior Pastor position.
I have a diploma from Boyce Bible School in Louisville, KY in 1989, a Bachelor's Degree in Practical Ministry from Master's Divinity School in Evansville, In in 2004, Master's Degree in Biblical Counseling from West Coast Bible College and Seminary in Waco, TX, Doctor of Divinity from Master's Divinity School in 2011.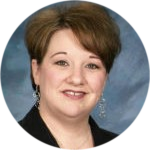 Secretary of Administration
I love the Lord Jesus more than anything or anyone! I married Pastor Robert on August 12, 1984. We have 2 grown children, Tyler and Lindsay. They are both married to amazing people, Kelly and David.
As of 2020 we have 3 of the most precious grandbabies: Anberlin (age3), Arabella (1 year old) and Graham (8 months).
I love dogs! We have an Old English Sheepdog (Presley), Schnauzer (Allie) and a Sheepadoodle (Brodie). I'm a hugger and love to teach children and women!
-Favorite food: cotton candy
-Least favorite food: brussel sprouts
-Favorite verse: Proverbs 3:5-6, Romans 12:1-2
-Favorite song/group: Holy Water & Rend Collective